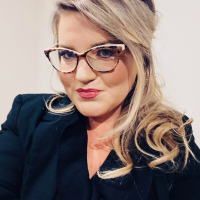 Erica Vandemark Russell
Tireless Ideator, Writer, Wisecracker, and Insight Artist.
Oft-disputed living legend.
Expertise If what you want is a true chameleon of a writer who also nails it on the people skills side, I'm ya Huckleberry (that was a Tombstone reference, because I'm just that cool). I've won several industry awards for my comedic script writing and humor-based ad campaigns, which I suppose makes sense, because I'm a stand up comic. But I also have work history writing informative and promotional content in finance, law, cosmetics and medicine. I'm a "Jill-of-all-content," so to speak. Most recently, I've written long-form informative content for attorneys, doctors, and bankers. I use my rather uncanny intuition and knowledge of SEO strategies to get the Google Gods to place my clients in that number one search results spot. It's something I'm passionate and oddly competitive about. And having written original pilot scripts, press junket bits, and branded content campaigns, I know how to pitch. I pitch like Pedro Martinez, mi amigo -- in a room, in a deck, or at a party. I have zero fear of concept presentation or direct client interface. I live to charm. What else sets me apart, you ask? I would say my sheer quantity of ideational output, my turnaround speed, and my knack for making the people around me feel...good. Haha. In short -- people just like me, because they can tell I like them. Delivering perfect writing for the assignment is just one facet of the job.
Skills Much like Liam Neeson in the completely ridiculous movie Taken (why didn't they just call it "Kidnapped?!), "I have a very particular set of skills. Skills that make me a nightmare for people like" your competitors. Ahem. On the technical skills end, I am well-versed in: all modern social platforms and their paid advertising structure/analytics; Wordpress; SquareSoft; Google Docs, Slides, KeyWords; KeyNote; InDesign; Final Draft; Microsoft Office applications; the list goes on and on, and frankly I'm already bored. Basically, if I don't know a program or platform yet, and that's what you use, give me 15 minutes and I'll know how to use it, too. On the intangible skills side, I am well-versed in: knowing what a client wants even if they don't yet; tailoring my communication style to cater to someone's personality or a particular setting; inspiring, motivating, and vocally appreciating my coworkers and clients; predicting trends and where the zeitgeist is headed in general; giving depth and dimension to an otherwise bland concept; giving absurdity and catchiness to an otherwise boring concept; adding interactive challenges to social campaigns that people will actually engage with because it's a hilarious chance for them to show off; and -- believe it or not -- listening. I'm good at listening. If you want to provide superior creative performance to the clients who trust you, you have to really shut up and listen. Everyone SAYS they listen, but they're really just being quiet while another person speaks. I make a point to actively listen, make notes, gauge body language and intonation, etc. I'm am insight artist, basically. And listening skillfully is a vital piece of that. For any assignment I have, I seek out all of the input I possibly can -- from statistics to stories. I assimilate data from as many sources as I can access. And then I do MY job, which is to distill it all down into its most basic and impactful form. My real passion is in finding the core essence of a thing and then knocking everyone's socks off when I do. To me, that's what separates a good thinker from a great thinker.
Location Killingly, Connecticut. I am fine with a lengthy commute to New York or Boston. I am skilled at working remotely. And I am open to relocating for the right opportunity.